Workshops for Elementary students
---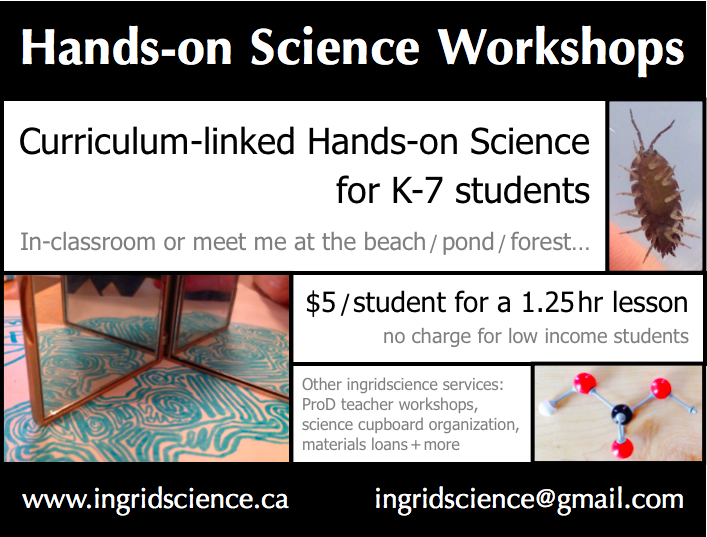 Outdoor or safely indoor student workshops (1 hr, or a little over) on any K-7 BC Curriculum science topic.
Ingrid brings all materials.
For an Elementary class: $5/student with no charge for low income students.
Outside of Vancouver, 2 or 3 workshops in one day preferred.
Request a workshop any K-7 topic, or choose from these science selections (pdf).
Outdoor science and math selections (pdf) from the ingridscience database.
Online student workshops also available, with optional materials drop-off.
ProD workshops for Elementary Teachers
---
Scheduled workshops
Provincial ProD Day October 22nd 2021
Outdoor workshop at Trout Lake/John Hendry Park, Vancouver (covered area in case of rain).
Topic: Outdoor Hands-on Science
REGISTER HERE
Request a workshop
On a topic, date and location to suit your school.
Ingrid brings all materials.
$150/hr for a group of teachers. Outdoors or safely indoors.
Request personalized workshop.
Science Workshop format
Try out low-cost teacher-tested activities that fuel curiosity and inquiry, and engage the diverse learners of the classroom. Documentation for each activity includes Science Curricular Competencies and Content connections, materials lists and links to a database of hundreds of science activities and lesson plans. If you are looking to build your science activity collection, or are starting to bring hands-on science into your classroom, ingridscience workshops bring new activity ideas in an environment of discussion and sharing favourites.
Outdoor Math Workshop format
Try out activity ideas for engaging, curriculum-linked K-7 Math. Use plants and our city's landscape for measuring, geometry, symmetry, patterns, graphing & probability. Documentation reviews the activities in the workshop and lists other outdoor math ideas for your grade level.